I'm so excited to announce that the home of codedbymiles has had a complete refresh.
I have been a freelance web developer for over a decade, and I launched codedbymiles just under three years ago. During that time, I have helped hundreds of businesses create and improve their websites. I am passionate about helping businesses succeed online, and I believe that a well-designed and well-maintained website is essential for any business that wants to be successful in todays digital landscape.
Not only has my website and brand had a refresh, but I've launched some new and exciting services which I'll outline below.
WordPress & Website Care Plans
It's time to take the hassle out of managing your website and provide you with peace of mind. Offering a variety of different plans, we cover everything from routine maintenance and security, top class support, to content editing, regular backups, and reliable website hosting. As well as a select number of hours with me, Miles, to work on your website in whatever way you'd like. You can focus on growing your business while we ensure your website is up-to-date, secure, and performing at its best. Say goodbye to website headaches and hello to worry-free online presence with our top-notch care plans. Learn more here >>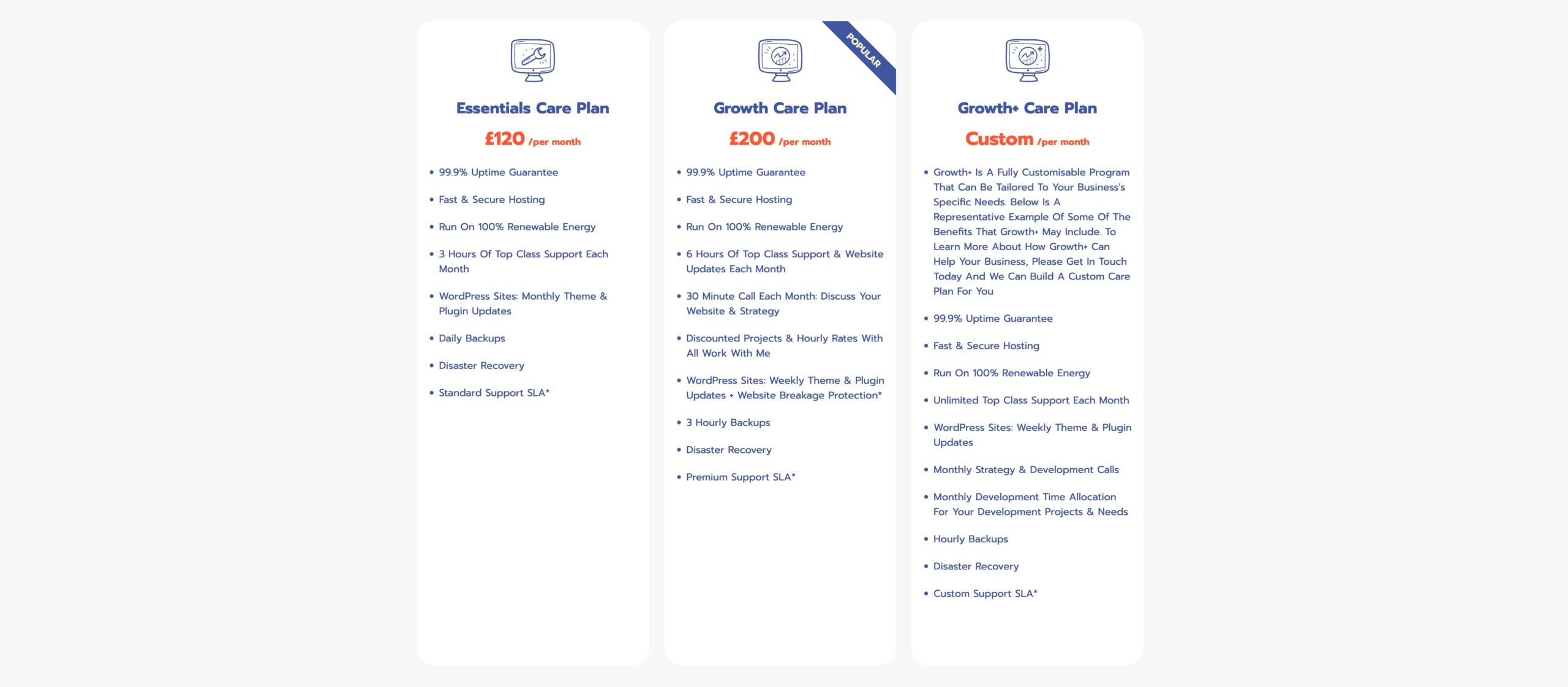 Website Audits
We offer website audits to your specific needs. With our three-tiered approach, including a 5, 15, or 30 point audit, we equip you with the essential tools to enhance every aspect of your website. Whether you're looking to fine-tune your online presence or uncover hidden opportunities for growth, our audits provide invaluable insights, actionable recommendations and our best website wisdom. Get ready to unlock the full potential of your website and take your online performance to new heights. Learn more here >>

eCommerce
We empower businesses to thrive in the digital marketplace. From sleek visually stunning online storefronts to secure payment gateways and everything in between, we deliver tailored solutions that captivate customers and drive sales. Join us on this journey to unlock the full potential of your online eCommerce business. Learn more here >>
eCommerce Websites
Unlock the potential of your eCommerce business with us! We have extensive experience in building high-profile eCommerce sites, catering to both newcomers and established businesses. We utilise innovative platforms such as Shopify and Shopify Plus to create cutting-edge B2C and B2B websites. From seamless product showcases to secure payment gateways, we ensure a smooth and engaging shopping experience for your thriving business.
Conversion Optimisation
Discover the untapped potential of your eCommerce website with our conversion optimisation service. Wondering how to get more conversions or why your website doesn't convert? We strategically identify and optimise your store to help skyrocket your sales and leave your competition in the dust. Our data-driven approach uncovers hidden opportunities to enhance user experience, improve site performance and streamline the customer journey. From persuasive copywriting to irresistible calls-to-action, we craft a seamless and compelling shopping experience that drives visitors to become loyal customers.
Re-platforming & Migration
Elevate your eCommerce business to new heights with our expert re-platforming and migration service. Transition from your current platform to a more advanced, scalable and feature rich solution. We take the headaches away by making the transition seamless, minimising downtime, retaining SEO and eliminating data loss. We meticulously analyse your business requirements and recommend the ideal platform that aligns with your business goals. We've undertaken migrations from Magento to Shopify/Shopify Plus, Cratejoy to Shopify, WordPress WooCommerce to Shopify/Shopify Plus.
1:1 Support
Experience our 1 on 1 dedicated and personalised support for your eCommerce business. We understand the unique challenges you face and are here to provide expert guidance every step of the way. We'll work closely with you to identify areas of improvement, troubleshoot issues and optimise your online store for success. Whether you need assistance with store upkeep, product management, inventory tracking, order fulfilment, marketing strategies, we've got you covered with our years of knowledge and insights. With our tailored support you'll gain valuable insights, streamline operations and drive higher customer satisfaction. Don't navigate the complexities of eCommerce alone
Thank you to all of my past and present clients for your support. I am excited to welcome new clients and help them achieve their online goals. Get in touch today if you have any questions.