With thousands of Apps to choose from in the Shopify App Store, it's common for some great apps to go unnoticed. I'm bringing you 5 Shopify Apps that me and my clients have used that I think you just need to try out on your store. Disclaimer; some of the Apps have free plans with limited features and a monthly fee may be needed to unlock their full potential (a small price to pay for powerful functionality don't you think?).
1. Bulk Product Edit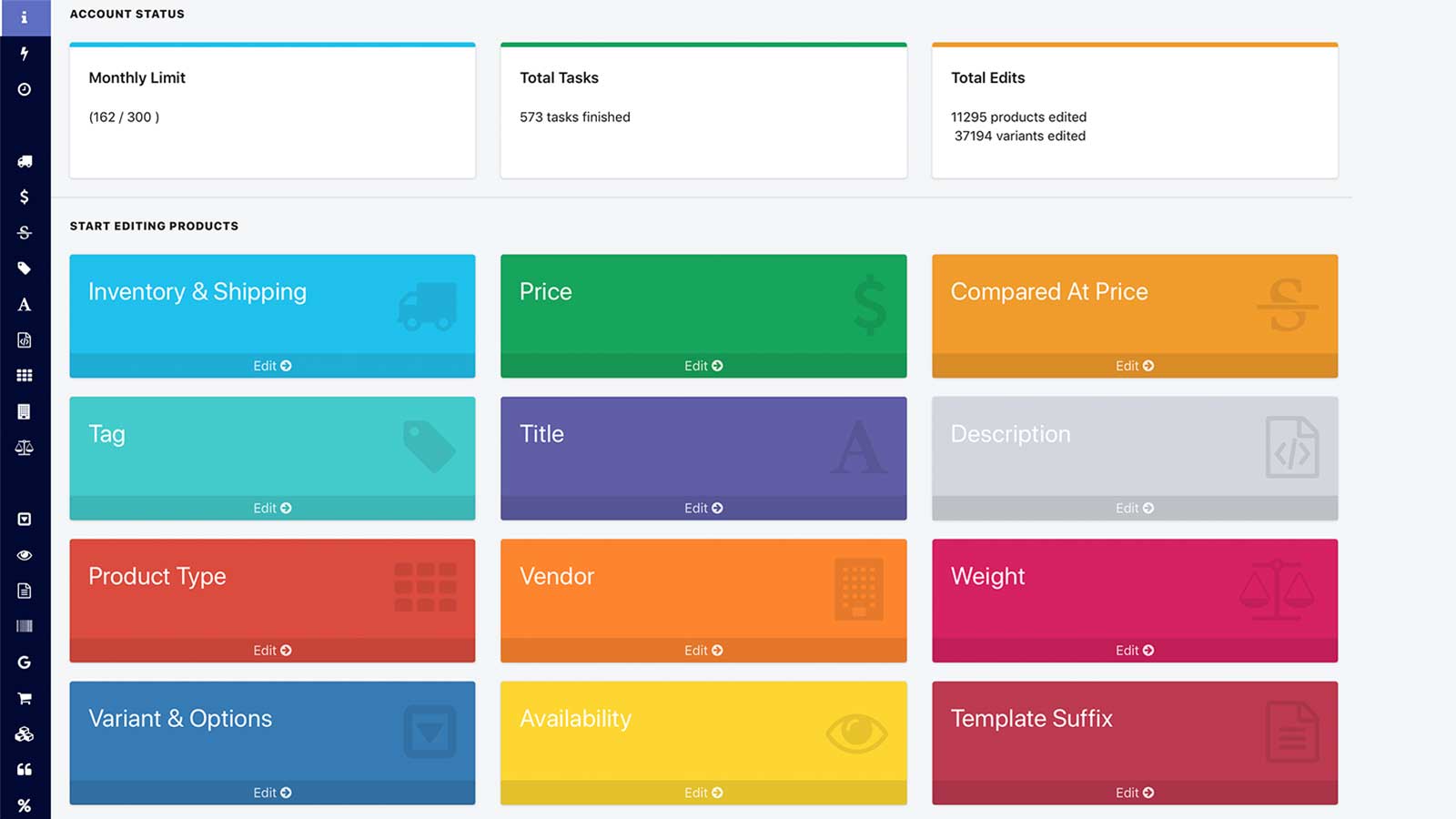 Made by the team over at Hextom this app provides a whole host of functionality that isn't in Shopify by default. The only way I can describe this app is Shopify, but on drugs. Providing so many logical parameters for bulk changes, its unreal how quick you can perform certain tasks with this.
For example let's say you have 3000 Art prints in your store, and you need to update the weight because you're now using a higher GSM card. You simply filter via the product type criteria, then choose to update the weight, and before your eyes all of them are updated. This is just one example of the many possibilities with this app. Consider it your personal butler and saving you time and effort where previously you may have had to do things manually or diving into a CSV.
A nice feature I also like is the ability to undo the actions in the event you've made a mistake, with a complete audit trail this can save you any headaches later on down the line. Give this app a try and start saving some of your precious time today.
2. OrderlyEmails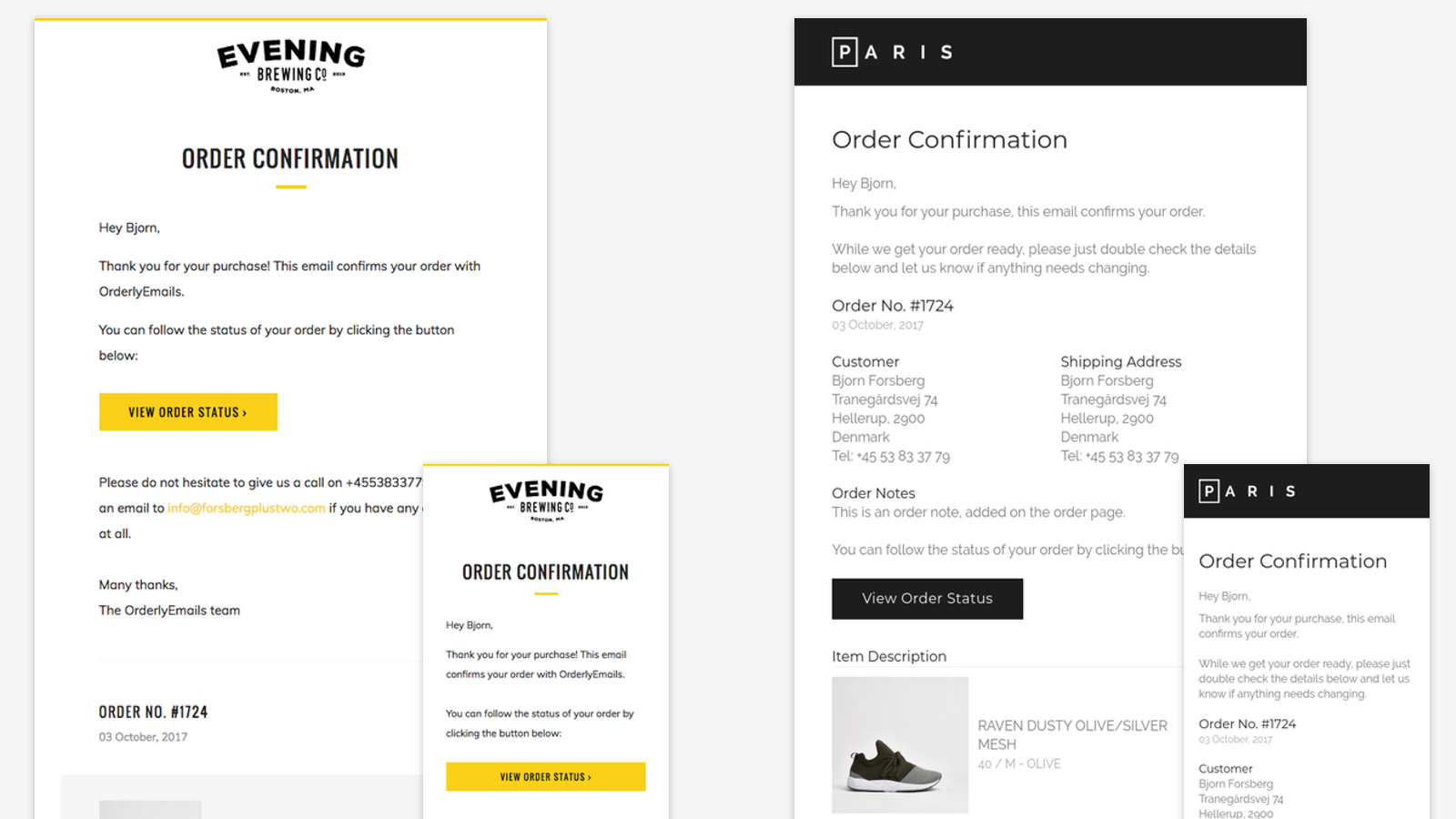 Made by the team over at FORSBERG+two this app provides improved email notification templates for your Shopify store. With a drag and drop editor and a low technical know how required to get started, this app is perfect for personalising your email notifications away from the Shopify defaults and giving your store that unique edge and improving your brand image with your customers.
With plenty of template options to choose from with different layouts, and the drag and drop editor you can customise your email design to your hearts content. Adding images, coupon codes or even recommended products to try and up-sell to customers. When creating your templates, a lot of the design choices are pushed across to all the templates saving you time, plus they're all in the order they are in Shopify so you can customise them one by one.
You can try the plugin out for free and design your emails, and when you're happy, pay the one time fee of $49. Then copy and paste the email template code straight into the Shopify notification settings. Sound daunting or confusing? Not at all, with a step by step guide provided by the app it's as easy as counting to 5.
3. Bulk Discount Generator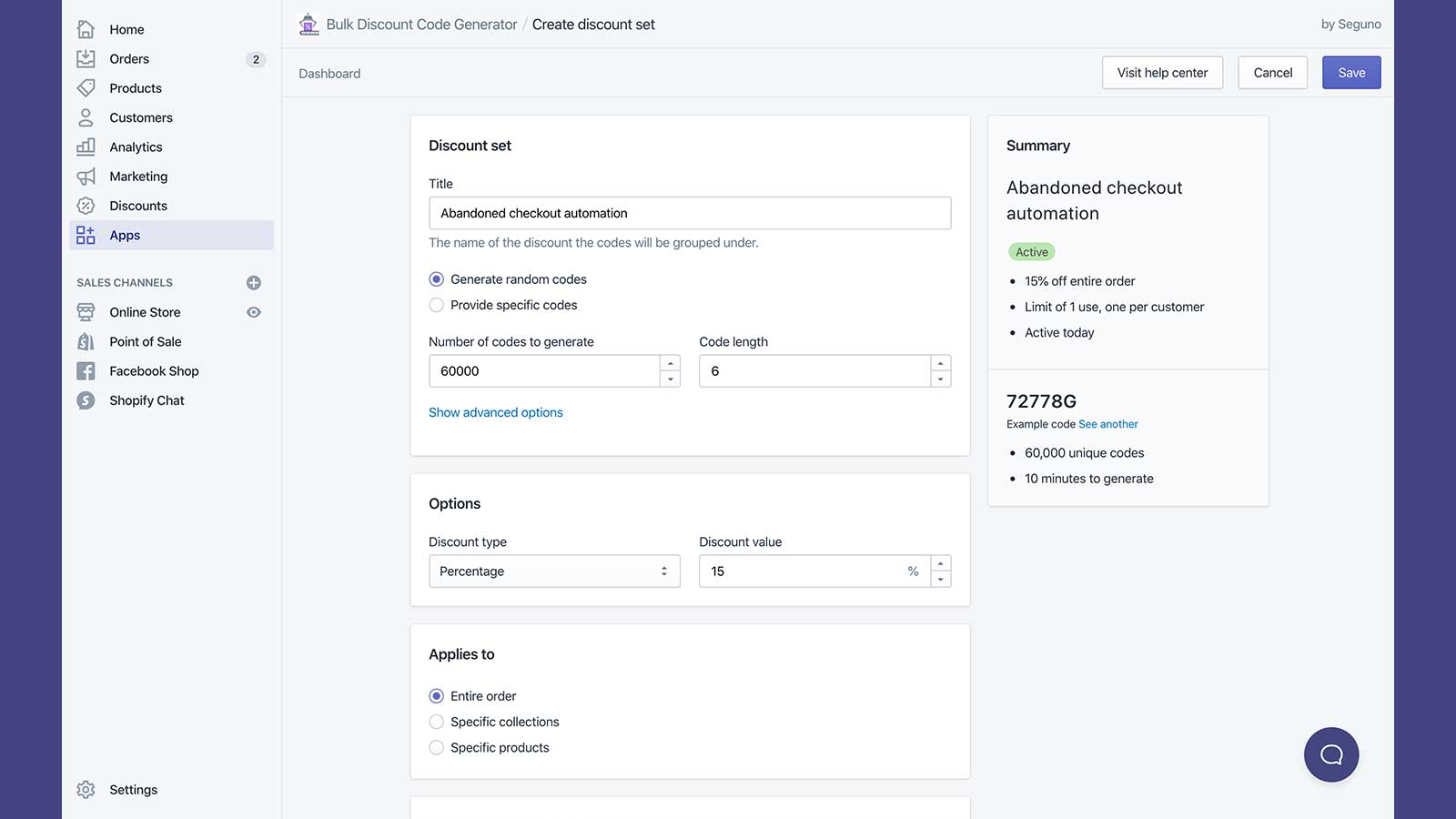 Made by the team over at seguno, this app provides a much needed aspect to your Shopify store that's currently missing. Allowing you to bulk generate hundreds (or thousands) of unique discount codes based on your defined criteria (exactly the same options that are provided by Shopify discounts functionality).
You can now generate unlimited discount codes (and name them) for your affiliates, student discount schemes, loyalty programs, popups and other discounting needs. Deleting, changing and renaming them is also just as easy. Managing bulk discount codes couldn't be easier, or cheaper considering this little gem of an app is totally free.
4. Crush Pics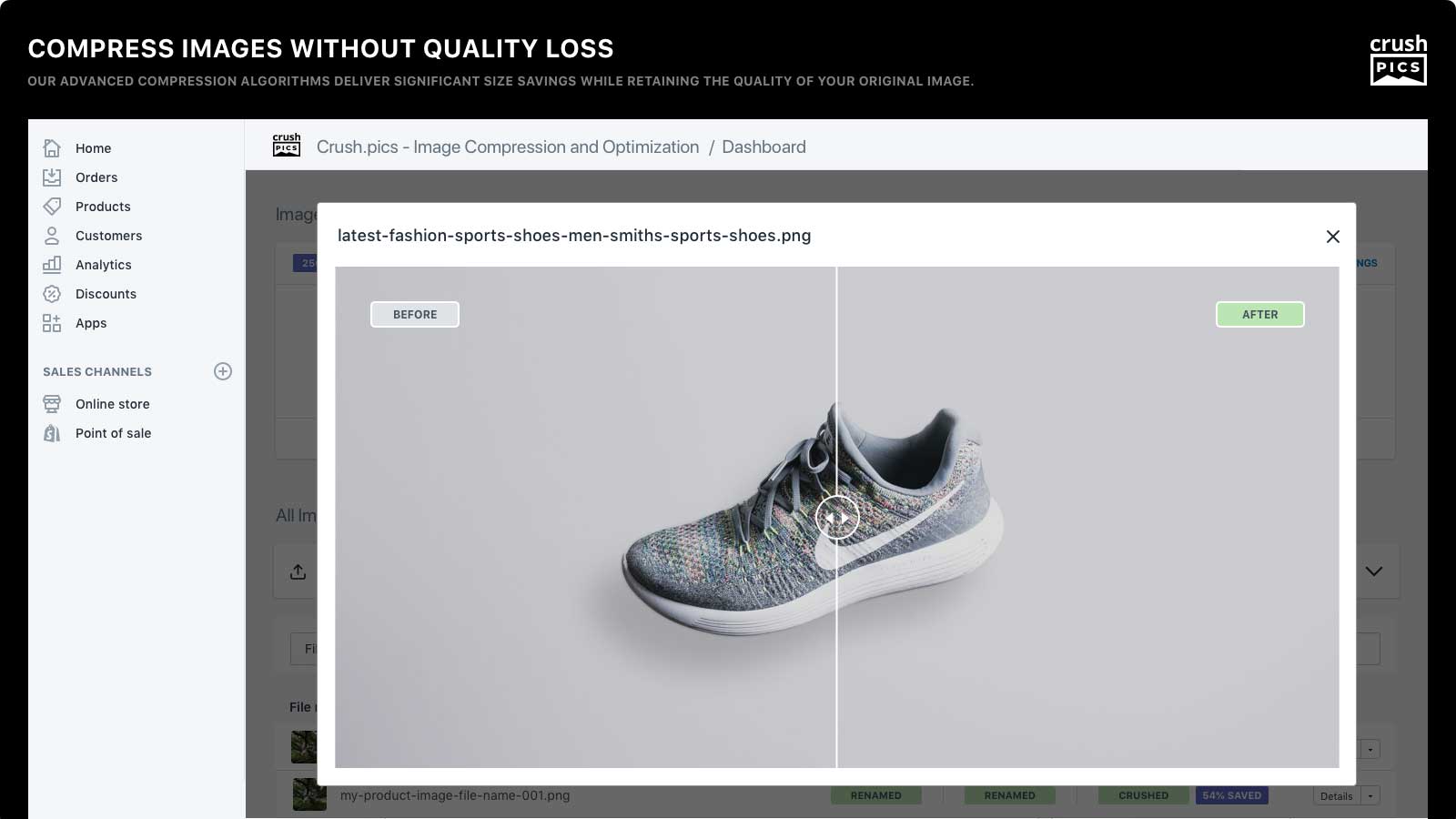 Made by the team over at spacesquirrel, this app is a powerhouse for your images on Shopify. You've probably heard many times about how image size matters, and why you shouldn't upload large images to bloat out your load times. You've got to remember that when browsing your site, each image is being downloaded, so the smaller the image size, the faster they download therefore speeding up your website.
But what about the image quality? Crush pics uses a smart approach to compressing images, so much so that most the time you can't tell the difference when saving 30%+ of the original image size. Better yet it has a nifty feature allowing you to compare the before and after to ensure you're happy, if you're not you can undo or alter the percentage of compression.
You can get Crush pics to run on all your images uploaded to your store (woo for backdating!), automatically compressing them and giving you the instant benefits, your customers will thank you and your conversion rate may even improve as a result of speeds increases. One more thing, this app has some remarkable SEO features too, such as bulk renaming files, adding alt tags and ensuring that the SEO work can be performed at ease for the any benefits you can get with images and SEO. Fast website, and SEO friendly images, now that's a win win.
5. Smart Tags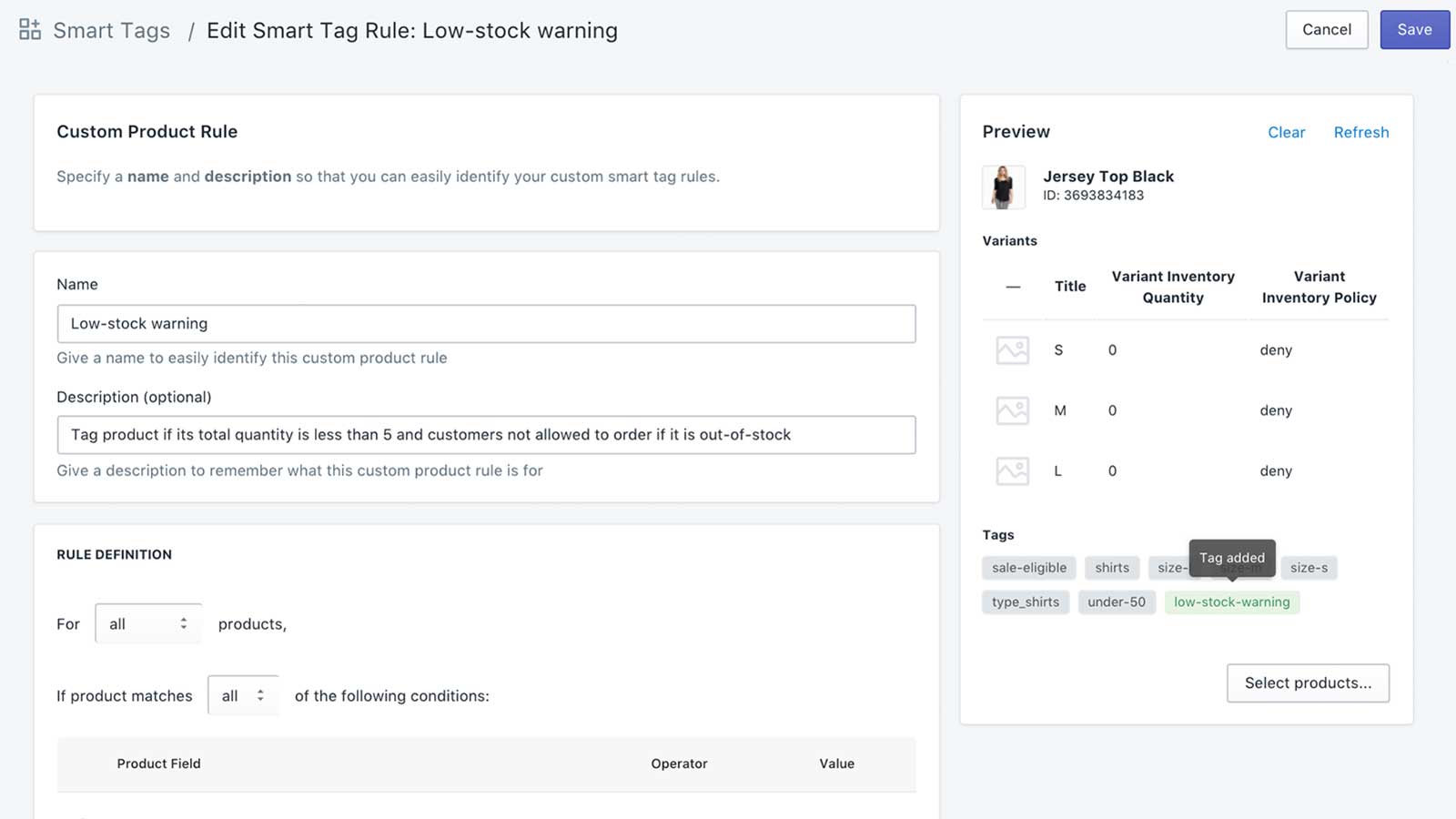 Made by the team over at wehavefaces, this app brings some tantalising tagging automation to Shopify. Tagging items one by one can be a lengthy process, doing it via CSV can also be error prone or not that enjoyable for the more visual people. Considering so much runs of tags on Shopify from customer tags, order filters to product collections and filters, smart tags brings a welcome automation to the process.
Setting up tag automations is a breeze, just setup your criteria and what you want the automation to do, select a product to test how it reacts (great way to test before pushing live) and then watch before your eyes the app backdate and continually check on criteria matches. The use cases are endless for this however I thought I would bullet point a few examples below.
Tag a product with 'sale' if it's in the sale category, theme templating adds a sale image overlay if product has sale tag (awesome right?).
Tag products if price is below X, filters on website use tags to filter products via price.
If product contains a word, tag it with it to add to a collection.
If a product has variant option blue, tag with blue so you can filter via colour in theme filters.
If customer has spent X tag them with VIP for special treatment / offers.
This is just a few examples of some simple use cases, but as you can probably tell the possibilities are endless and this app can be so powerful and enhance your store massively.